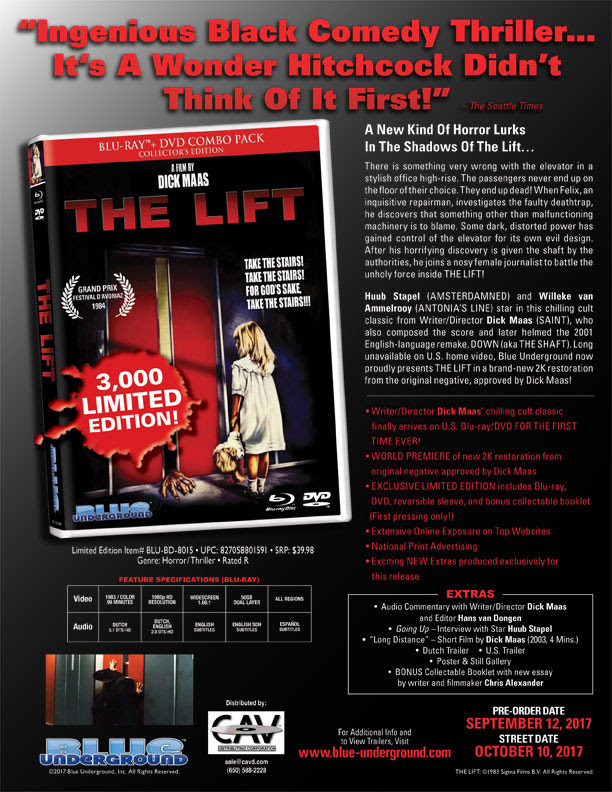 Blue Underground October New Releases 
Lift, The (Limited Edition Combo)
Blu-ray + DVD (Two discs)
Label: Blue Underground
Prebook: 09/12/2017 Street: 10/10/2017
SRP: $39.98 UPC:827058801591 Cat: BLU-BD-8015
Color 99 minutes In Dutch and English with English, English SDH and Spanish subtitles
All Regions Widescreen 1.66:1 / 16×9 Blu-ray: DTS-HD MA 2.0 Stereo
DVD: Dolby Digital Stereo
Production year: 1983 Horror Not Rated R
Director: Dick Maas
Cast: Huub Stapel, Willeke van Ammelrooy, Josine van Dalsum
A New Kind Of Horror Lurks In The Shadows Of The Lift…
There is something very wrong with the elevator in a stylish office high-rise. The passengers never end up on the floor of their choice. They end up dead! When Felix, an inquisitive repairman, investigates the faulty deathtrap, he discovers that something other than malfunctioning machinery is to blame. Some dark, distorted power has gained control of the elevator for its own evil design. After his horrifying discovery is given the shaft by the authorities, he joins a nosy female journalist to battle the unholy force inside THE LIFT!
Huub Stapel (AMSTERDAMNED) and Willeke van Ammelrooy (ANTONIA'S LINE) star in this chilling cult classic from Writer/Director Dick Maas (SAINT), who also composed the score and later helmed the 2001 English-language remake, DOWN (aka THE SHAFT). Long unavailable on U.S. home video, Blue Underground now proudly presents THE LIFT in a brand-new 2K restoration from the original negative, approved by Dick Maas!
Special Features:
Audio Commentary with Writer/Director Dick Maas and Editor Hans van Dongen
Going Up – Interview with Star Huub Stapel
Long Distance – Short Film by Dick Maas (2003, 4 Minutes)
Dutch Trailer
U.S. Trailer
Poster & Still Gallery
BONUS Collectable Booklet with new essay by writer and filmmaker Chris Alexander
Review Quotes:
Ingenious Black Comedy Thriller… It's A Wonder Hitchcock Didn't Think Of It First! 
-The Seattle Times
Fine Suspense… Plenty Of Laughs And Thrills! 
-Variety
Surprisingly Effective! 
-TV Guide
Trailer link:
https://www.youtube.com/watch?v=lvKDcJj6R-4&t=5s
Please Note – Trailers are for story purposes only and they may not represent the actual quality of this release.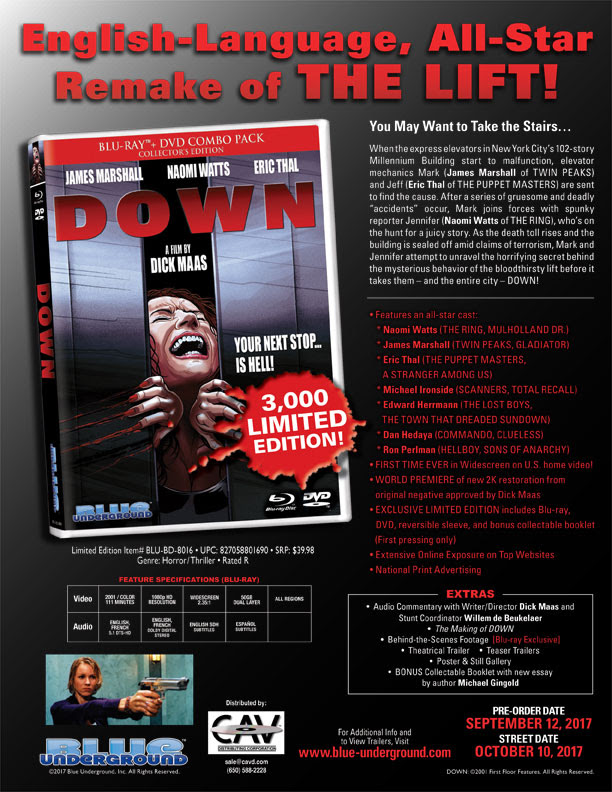 Blue Underground October 2017 New Release
Down (aka The Shaft) (Limited Edition Combo)
Blu-ray + DVD (Two discs)
Label: Blue Underground
Prebook: 09/12/2017 Street: 10/10/2017
SRP: $39.98 UPC: 827058801690 Cat: BLU-BD-8016
Color 111 minutes In English and French with English SDH, Espanol subtitles
All Regions Widescreen 2.35:1 / 16×9 Blu-ray: 5.1 DTS-HD DVD: 5.1 Dolby Digital Surround EX
Production year: 2001 Horror Rated R
Director: Dick Maas
Cast: James Marshall, Naomi Watts, Eric Thal, Michael Ironside, Edward Herrmann, Dan Hedaya, Ron Perlman
You May Want to Take the Stairs…
When the express elevators in New York City's 102-story Millennium Building start to malfunction, elevator mechanics Mark (James Marshall of TWIN PEAKS) and Jeff (Eric Thal of THE PUPPET MASTERS) are sent to find the cause. After a series of gruesome and deadly accidents occur, Mark joins forces with spunky reporter Jennifer (Naomi Watts of THE RING), who's on the hunt for a juicy story. As the death toll rises and the building is sealed off amid claims of terrorism, Mark and Jennifer attempt to unravel the horrifying secret behind the mysterious behavior of the bloodthirsty lift before it takes them – and the entire city – DOWN!
Michael Ironside (SCANNERS), Edward Herrmann (THE LOST BOYS), Dan Hedaya (COMMANDO), and Ron Perlman (HELLBOY) co-star in this big-budget remake of THE LIFT helmed by original Writer/Director Dick Maas
(AMSTERDAMNED). Previously released on home video in a cropped full-frame transfer as THE SHAFT, Blue Underground is now proud to present DOWN in a brand-new widescreen 2K restoration from the original negative, approved by Dick Maas!
Special Features:
Audio Commentary with Writer/Director Dick Maas and Stunt Coordinator Willem de Beukelaer
The Making Of DOWN
Behind-the-Scenes Footage [Blu-ray Exclusive]
Theatrical Trailer
Teaser Trailers
Poster & Still Gallery
BONUS Collectable Booklet with new essay by author Michael Gingold
(Visited 21 times, 1 visits today)