From the press release
Since Click's inception, we have made an annual effort to ease the pain of sensory overload from themed pedicabs, building wraps, street teams, activations, and panel after panel, by assembling a handy, fun-to-read guide of all the films and TV shows we might catch a glimpse of while walking mile after mile in the blazing San Diego sun.
In addition to movies & TV, we also have some fun features—an exclusive toy round-up w/ booth locations, comic book suggestions for fans and soon-to-be-fans, guides on surviving various disasters, and more!
At 48 pages, it's also an excellent time-waster for all those moments where you'll be waiting (and waiting and waiting) to get into various panels.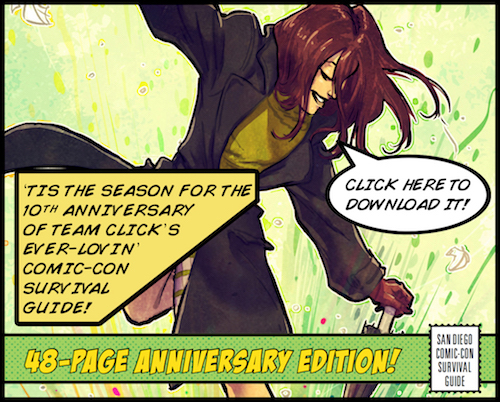 (Visited 11 times, 1 visits today)